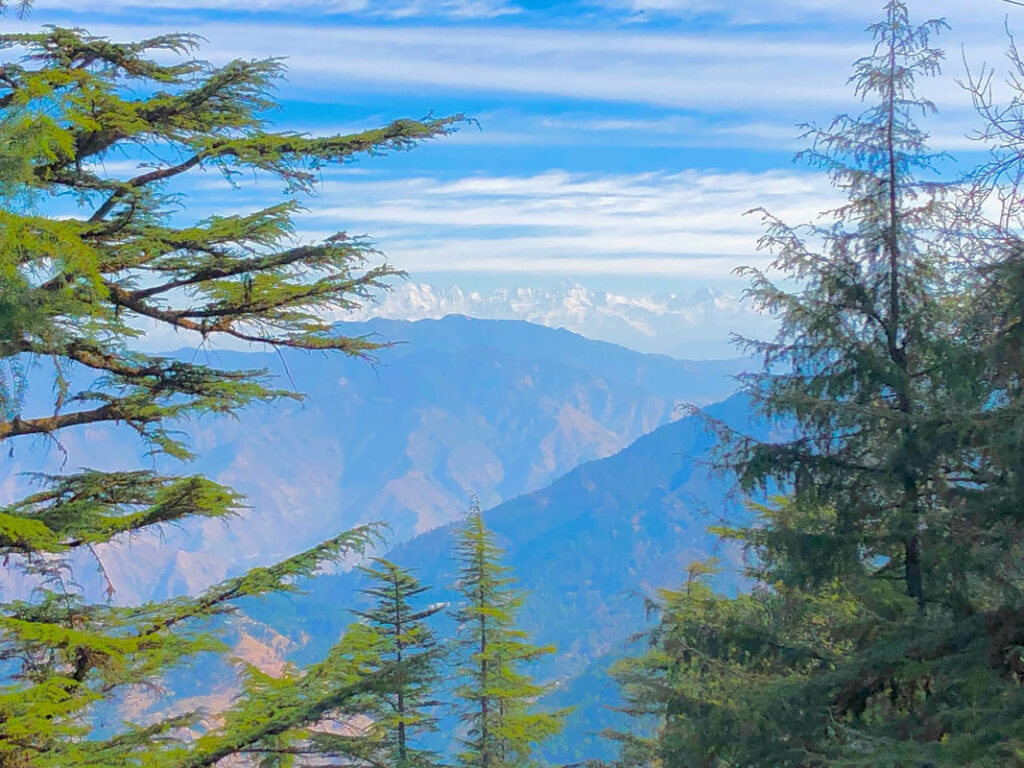 When I first came to Das Mile Gompa in the year 2000, I stayed in a small four-person retreat center which Chatral Rinpoche had built for his students right next to the old temple. This simple construction was a very basic arrangement of four rooms, each with an adjoining tiny area for cooking with a small communal area in the courtyard from which one gained entry to one's rooms. The whole retreat building was surrounded by a high wooden fence that had access via a single door that was locked during conventional retreats.

At that time, the only other person staying inside the center was an old Lama called Tinley. He had lived there for nearly thirteen years. He was short, toothless, and bald. He had been a family man in his younger days and had several children, now all grown up and tending families of their own. Having fulfilled his duties as a husband and father, when his wife had passed away after a brief illness, he had decided, that he would devote the remainder of his days to studying the sacred texts and to contemplation.

He and Pala, the caretaker of the Temple, who stayed in a small room adjoining Rinpoche's quarters nearby, were very good friends. It was always a joy to watch these two interacting, although I could never understand the little speeches that passed between them in quick and mumbled Bhutanese.

They watched out for one another. They shared jokes and often I would see them sitting together in the noon sunshine, recounting memories of times gone by as they deftly shelled walnuts with their huge and frighteningly sharp kukri knives. Sometimes, during these sessions, they even wept together as they remembered sad events from days of yore.

Many times I would find them in the bright afternoon sunshine near the single tap which stood between the temple and the retreat compound, Tinley on a small wooden stool and Pala standing behind him pouring water over his head and scrubbing his back. These sessions happened about twice a week in a little ritual that had become a routine part of their lives over the years.

In their tiny respective kitchens, they both prepared their meals on mud ovens fuelled by small pieces of wood. They had it down to a fine art, often needing no more than three or four twigs to cook the midday meal. Tinley's eating bowl also doubled up as the pot in which he cooked. It was an ancient, blackened aluminum cooking pot, which he would scrap clean with a metal spoon. No need to add to the washing up after meals. I can still recall the sound of metal scraping upon metal as he stood at the window of his room, pot cum bowl in hand, careful not to leave anything on the bottom of it. He would lean his two elbows on the window sill, bowl in one hand, spoon in the other gazing out over the surrounding hillsides, mountains, and valleys. I never saw him waste even a single grain of rice. Theirs were the simplest of simple lives. They wanted for nothing and were content with the quiet routine that had become the passage of their autumn days and years.

But Lama Tinley had one secret which he did not keep very well since all of us residing at Das Mile Gompa knew about it. He had a stash of savings. During the years while he had been living in the forest, various local families would come to him from time to time and request him to chant prayers for a family member who might have passed away or become ill, or some such difficulty, and each time this happened they would give him a bit of money which he would carefully stow away.

One day when he pulled this stash out to add a few more rupees he suddenly got the urge to sit down and count it. After much muttering and calculation and double-checking he found it came to the rather considerable amount of one lakh, this is roughly $2000. From that day onward, the quiet simplicity of his life was shattered.

It wasn't until that day that he realized just how much his stash of rupees had increased over the years. Prior to that he never really gave the money much thought or was even aware of just how abundant his stock of savings had become. Having counted it all out carefully and sorted it into bundles of notes and coins, he emerged from his room the following morning looking rather haggard. He had passed a sleepless, fretful night, fingering the notes and pondering over what he would do with them, how he would protect this little spring of wealth, and where he might hide it so that no one else would get their hands on it.

The tone of conversations that passed between him and Pala began to change as they discussed the various pros and cons of what could be done with the money. Tinley's countenance took on a thoughtful and anxious air. I began to notice him emerging from behind trees and bushes in various spots in the surrounding forests. Sometimes I saw him foraging about amid the cardamom bushes. If he happened to spot me coming along, he would pretend to be gathering herbs or ferreting out walnuts which had been missed during previous gathering sessions. He would set up a whistle and wander away, like a roosting bush hen that wanted to lead prospective predators away from her nest.

Soon after that, Tinley began making trips into Darjeeling, checking out the various banks, and looking into money matters. He became knowledgeable about fixed-term deposits, interest rates, and so on and would return home from these excursions laden with fliers from the different banks that he had visited. He would then spend hours poring over them in his room, trying to decipher the numbers and make sense of it all.

Then one afternoon, his daughter arrived from Bhutan with three young children in tow. He had not seen her for many years and so this unexpected arrival was a great joy to him. They all piled into his tiny room for an unspecified stay. The rest of us gave knowing looks to one another. It was unclear how she had come to know about her father's sudden 'wealth', but we guessed that he had probably told her himself in his usual chattering way.

Although he tried to be secretive and a little furtive with the rest of the world, inside the retreat center he seldom kept his thoughts to himself. On the journeys to Darjeeling, he always dropped into Rinpoche's Temple in Jore Bungalow which was just near the township of Ghoom. Any little bit of gossip spread far, wide, and fast in this little warren of gossiping monks and nuns.

Some weeks after the daughter had left, taking with her some twenty thousand rupees from the 'stash,' his son arrived, looking rather too eager and dutiful. It had also been many years since he had been to visit his father there at the Gompa.

Meanwhile, Tinley looked more and more careworn and began to mumble things to himself. Pala and I watched on with growing concern. His son eventually carried off another portion of the savings and disappeared from sight.

Then one day the Lama emerged from his room with the first bright smile we had seen in months. It appeared that he had decided that the rest of the money would be offered to his teacher Chatral Rinpoche. Tinley knew very well that money, which was offered in return for prayers and rituals came with a heavy burden of responsibility. Many times in the past we had seen Rinpoche reject offerings from various people and on occasion, he had even redistributed them back to those present at some of the ceremonies over which he presided in the Temple.

Mostly these offerings were kept in a special pouch that Rinpoche always carried with him. This little bag contained money that was being kept for the purchase of farmed fish which he would buy and then release into the Ganges River near Kolkata. This was a yearly ritual that took place on the banks of the Ganges and it disposed of most of the funds that were given to him by disciples and devotees throughout the year.

After making his decision, Tinley disappeared for a few days as we had had word that Chatral Rinpoche had just arrived from Nepal and was staying at his Monastery near Siliguri. When he returned, it felt as though we had the old, carefree Lama Tinley back in our midst and it wasn't long before I could watch him and Pala chatting and giggling once again of a noon, as they shelled their stash of walnuts. The weekly baths resumed and the furtive fumbling about in bushes ceased.
Calm and sanity were restored once more to the quiet precincts of the old Gompa.
​Lyse Mai Lauren – "Tibetan Masters and other True Stories (Shades of Awareness) "