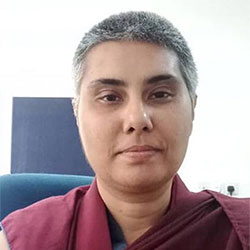 Ven. Dr.Karma Tashi Choedron is a śrāmaṇerikā (Tib:getsulma), was ordained by Venerable Khenchen Thrangu Rinpoche in 2009. Ven. Dr.

 

Karma is a meditation teacher, focusing on mind training, calm-abiding and insight meditation. She is trained as a civil engineer and holds a Ph.D. in Environment and Resource Studies from Mahidol University, Thailand. She completed an M.A. in Buddhist Studies from the International Buddhist College (IBC) in 2016.

Ven. Dr. Karma, an environmental sociologist and social auditor, is currently an Assistant Professor in Development Studies at the School of Politics, History and International Relations, University of Nottingham, Kuala Lumpur, and the Deputy Director of Education at the Vajrayāna Buddhist Council of Malaysia (VBCM) and Religious Advisor to the Malaysian Buddhist Consultative Council (MBCC).

Ven. Dr. Karma received the Outstanding Woman in Buddhism Award in 2010 in recognition of her contribution to Buddhism and the environment by the Association for the Promotion of Status of Women in Thailand. Ven. Dr. Karma Tashi Choedron has authored two books on conservation and co-authored a book featuring a comparative study between Sikhism and Buddhism, titled, Two Gurus One Message.