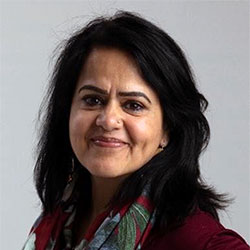 Tripti Lochan

is the Global Capability Development Officer of VMLY&R, a global brand and customer experience agency with over 12,800 employees and more than $2B in annual revenue. She is responsible for identifying areas for capability growth and developing strengths globally in line with the company's vision. Tripti has been a part of VMLY&R's Global Leadership Team for over a decade and partners with teams across all regions and sub-brands worldwide. Previous to this role, Tripti was the co-CEO Asia, and managed diverse markets across Asia and was responsible for the strategy and growth of VMLY&R in Asia.

Regularly sought for opinion on all matters marketing, Tripti judges award shows like the Effies & AMES, speaks at diverse conferences including keynotes at ad:tech & Forrester, and writes opinion pieces in Campaign Asia, Business Insider, and CMO.com.

Tripti is a Buddhist and her Dharma journey started with a Vipassana retreat that sparked her thirst to learn more about Buddhism in 2009.

 

She has completed the Nalanda Diploma in Buddhist Psychology from Tibet House taught by Geshe Dorji Damdul La and is in the 2nd year studying Lorig of a 3-year Logic & Debate Course taught by Atisha Mathur at ILTK Italy. She knows that these are the very first steps of her journey!