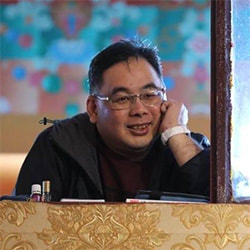 Wong Ching Wei, or preferred to be called as Sherab (his Tibetan name meaning Wisdom;), is a freelance writer, speaker and translator.
He has been working and translating for many spiritual teachers in various talks, retreats, seminars and workshops since 1997.
He shares his experiences and knowledge on various schools of Tibetan Buddhism, Zen, synchronicity, and basic principles in Spirituality as well as creative visualization through his meditation and spiritual workshops.
​
Published works:
Introduction to Buddhism and Tantric Meditation by HH the Dalai Lama, Published by Shakyamuni Dharma Centre, KL.

Three Teachings by Jetsunma Tenzin Palmo, Publisher: Culture and Life, Taiwan.

A Precious Gift by HE the 12th Zurmang Gharwang Rinpoche, Publisher:Zurmang Kagyu Buddhist Centre, Singapore.

Four Foundation and Introduction to Buddhism by the 12th Gyalwang Drukpa, International Drukpa Publications, New Delhi, India.

Pathways to Peace by Master Hsin Tao, Museum of World Religions, Taiwan.

Ground, Path and Fruition by Tsoknyi Rinpoche, Ka-nying Ling Dharma Society, KL, Malaysia.