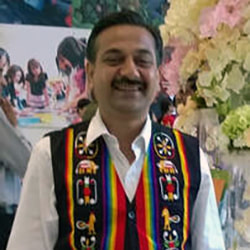 Niraj Kumar is working on five volume translation of the pinnacle of Indian esoteric Buddhism,  The Kalachakra Tantra.  The first volume  including a comprehensive introduction to location of Oddiyana, Shambhala, chronology of Kalki Kings,  place of composition of the Tantra  and its transmission lineages;  is set for release in March 2021. He is also active with Himalayan Studies. His edited work, Himalayan Bridge(2021) has recently been released  by Routledge. He is also an active pan-Asianist thinker with several acclaimed books to his credit  on the theme.
Why I Support "Sattva"?
In the later Buddhist tradition, there is a hierarchy of the state of accomplishment for an intelligent and conscious being: Vajrasattva, Mahasattva, Sarvasattva, Bodhisattva, Samaysattva and Sattva...
Sattva is the first step of the ladder. We all are Sattvas—the sentient beings who are conscious, contemplative and performers. I support this movement as it is not bound by race, creed, geography or ideology. The goal of the movement is pious and it aims for the greatest good of the sentient humanity. Sattva aims to connect people with the common thread of peace, joy and prosperity. May the movement spread far and wide!