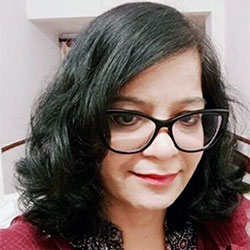 Manjula Pradeep is an Ambedkarite Buddhist working for the rights of marginalised communities for past three decades in India. She has done Masters in Social Work from M.S. University, Vadodara and Bachelors in Law from Gujarat University.

Manjula has represented issues of caste and gender based violence and discrimination in the United Nations and European Parliament for almost 15 years.

Manjula is Director of Campaigns at Dalit Human Rights Defenders Network (DHRDNet) which focusses on addressing issues of human rights violations of Dalits and Dalit defenders in India.  She is also the National Convener of National Council of Women Leaders (NCWL) through which issues of marginalised women and girls are raised through research and advocacy.

Manjula's passion is to spread dhamma through practice and build leadership of young women and men through training and mentoring.

 

She brings compassion and healing through the practice of dhamma.

The BBC has named Manjula Pradeepa as one of the world's 100 most inspiring and influential women of 2021

.