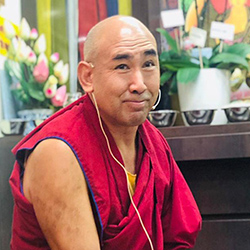 He was born in Zanskar, a remote part of northern India that is historically and ethnically Tibetan. At the age of ten he chose to become a monk joining the local monastery and studying there for five years.

Upon completing the exams at his local monastery he travelled to South India to begin the twenty-six year program of scholarly study to become a Lharampa Geshe at Drepung Gomang Monastery. This degree is the highest monastic degree in the Gelug School of Buddhism. During these 26 years he was tested on his knowledge of Buddhist philosophy in front of His Holiness the Dalai Lama.

Geshe Yonten is a member of a small group of monks selected by His Holiness the Dalai Lama to study English, western philosophy, and science so that he may teach, collaborate and study with scientists, philosophers, educators and others across the world. Geshe Yonten is specially appointed by His Holiness the Dalai Lama to be Tibetan Buddhist Centre Resident Teacher.