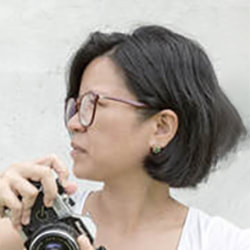 Charlotte begins her path in filmmaking since 2002. She made her first film 'MY DAUGHTER' in 2009. The film was world premiered in Rotterdam. It received the Grand Prix for Best Feature Film award in Croatia. Abbas Kiarostami as the head of jury for the Marrakech Film Festival praised it as 'pure cinema' and awarded the film Jury Prize. Charlotte's works is known for her meticulously chosen images. This is reflected in films like 'TABOO', 'IM LISA', 'HANGER', 'BITE'.
Charlotte also worked as the Assistant Director for Ang Lee, Tsai Ming Liang, Ho Yuhang, Anthony Chen, Tan Seng Kiat in films like 'LUST. CAUTION', 'I DON'T WANT TO SLEEP ALONE', 'RAIN DOGS', 'AT THE END OF DAYBREAK', 'ILO ILO', 'WET SEASON' & "SHUTTLE LIFE".
Why I Support "Sattva"?
May each and every habitants on earth will have the chance to discover their true innate nature.