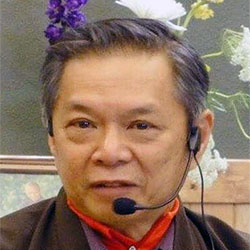 Chân Huy is a senior lay dharma teacher in Thich Nhat Hanh tradition.

He received lamp transmission from the Venerable Zen Master in 1994 in Plum Village, France and has taught and led mindfulness retreats everywhere in Canada and the USA since.

He has helped set up and support many local sanghas and groups of practices wherever he goes.

Chân Huy was a founding member of the Maple Village in Canada (1986) and the founder of the Montreal Mindfulness Practice Center (1995) and Institute of Applied Mindfulness (2010).

In the last few years dharma teacher Chân-Huy has also started teaching to

 

various groups of mindfulness meditation practice

 

in China, Taiwan and Japan.