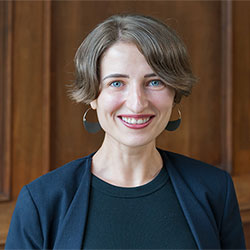 Andreea

was introduced to Vajrayana Buddhism and breath meditation in 2014 and her practice grows strong to date.

Originally from Romania, Andreea moved to Maine, USA in 2013. Her journey exposed her to what are now many of her loves: philosophy, poetry, history and mythology, the study of religions and spirituality, and the arts that weave the tapestry of our experience.

Andreea gets to play at the intersection of many groups. She facilitated several programs and discussions in her local community in Maine, as well as abroad such as hosting lectures and workshops with international speakers or taking on a speaking engagement with her alma mater Babes-Bolyai University in Cluj-Napoca, Transylvania.